When I first read about this building, I immediately assumed it would be located in Salt Lake City, Utah. But in fact, this building is located in India, the home country of its architect Charles Correa.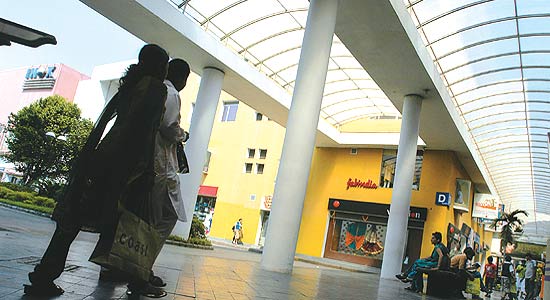 The City Centre is a bustling hub of commercial and entertainment spaces.  Its mall combines elements of an Indian bazaar with a more traditional Western mall design. It contains many open pedestrian walkways with a polycarbonate roof overhead; the combination of this design with the arrangement of the buildings nearby provides openness and diffused sunlight while offering shoppers protection from the weather. But it is more than merely a mall – it compasses apartment houses and office buildings as well as theaters, shopping, and even a wedding hall.
The City Centre's website describes this complex as a place where everyone can find something to do: "It offers an endearing environment where people can do their own thing – shop at leisure or just browse past the window display, choose between a quick bite or a full-course spread, catch the latest blockbuster or the high-brow award winner – just like that." Definitely sounds like a place I would love to go shopping!